---


Anna Tyler is, without question, one of the cutest girls we have had on any of our shows. She is small and sweet and with those bows on her pigtails she looks just like a little doll. The things O.T. is planning on doing to her, however, are not so nice and sweet as our model. He wants to take this well put together girl and turn her into the cum-drunk wreck she was always supposed to be, and that's just what he's going to do.

After he undresses her, O.T. ties Anna up on the floor so that her tight little body is contorted into some odd shape with one leg and one arm bent and the other arm wrapped around her back. She looks like a puzzle to unfold, but that's not quite what O.T. has planned. He grabs and pulls at her perky tits and twists her nipples as she lets out tiny little whines of pain and excitement. Then he ties her neck down to her leg and pushes her back so he can reach her pussy to fuck it with the pogo for a little while before it's back to the torment.

Next, Anna is tied with her hands and feet on the floor and her ass all the way up in an upside down V-shape with a rope around her waste. O.T. takes out his flogger and uses it to beat her ass and her pussy until they are sensitive enough for him to reach his final goal. He ties the pogo so that it is tilted down with the end deep in Anna's wet pussy, and then ties a hitachi between her legs pressed up against her clit. And he leaves her there, screaming in ecstasy, cumming over and over again until there is almost nothing left of her. She's been completely used up, mind, body, and soul.
Read More & Watch ON-LINE »
---
---


Sierra Cirque may well have been an acrobat at some point with the way her body moves. She is as flexible and nimble as she is sexy and submissive. Our guy is going to have a lot of fun folding her up into different positions and beating whatever bits of skin those reveal to him, and if she's very good, maybe she'll get to have a little fun herself.

Fooling around with Sierra's flexibility is only half the fun. The way she shrieks and tries to wiggle away every time she is flogged, fingered, or fucked is what really gets our guy going. He is having the time of his life bending and beating this bitch until she breaks. Then when she's broken in he's going to hang her from the ceiling and have some more fun with her.
Read More & Watch ON-LINE »
---
---


Ivy Addams has something Jack Hammer wants. It isn't just her sexy body, either. She knows the combination to the briefcase he's carrying, and it holds something very valuable. So much so that she thinks she is ready to endure torture to protect its contents. She is trained to persist and keep her mouth shut, but eventually everyone breaks.

Seated in tight rope bondage, she is drooling around the gag in her mouth. Jack knows she isn't going to give up easily, so making sure she can talk before he's had a chance to work isn't exactly a priority. In fact, he's going to really enjoy getting this code out of her, and he wouldn't want her to surrender right away, even if she were willing.
She is resisting like she doesn't really value her body. She's trying to hold out against the caning, the humiliation and the feeling of having his hands all over her. Stripped naked in the middle of the room, she's just glad that there isn't anyone else there to witness the rough way he is handling her. Her body betrays her before she betrays her secret. Her pussy is dripping wet and while she swears that she is fighting with all of her might, she seems eager to have Jack play with her cunt.

Tags: Ass Caning, Breast Caning, Breath Play, Calf Caning, Caning, Choking, Cut Clothing, Dildo, Interrogation, Neck Rope, Nipple Clamps, Pogo, Ring Gag, Rope Bondage, Rope Gag, Stockings
Read More & Watch ON-LINE »
---
---


India Summer has two AVN's as the MILF performer of the year. A sexy piece of ass has a reputation for amazing performances and it is well deserved. Between her credentials and her amazing body we could say that she needs no introduction, but talking about one of the hottest women in the business is almost as fun as tying them up and playing with them.

Well, as much of a veteran of the orgasmic arts as India is, she can't stand up to what Jack Hammer has in store for her. His mastery of rope has her dripping wet as she languishes on the floor of his dojo. He's inside of her head and she is already on edge before he even starts vibrating her pussy or caning her feet. India loves pain mixed with her pleasure, and this potent combination sends her right over the edge. She is so cum drunk that we have to give her a break and come back for more later.

The second time she doesn't do much better. There is just something about the way that Jack handles her that means she can't hold out against him for very long. He blows her mind with incredible orgasms again, and she is bound so tightly all she can do is writhe on the floor in ecstasy. Completely overwhelmed, this award winning seductress has just met her match.

Tags: Dildo, Electrical Tape Blindfold, Hitachi, Languishing, Orgasm, Pogo, Ring Gag, Rope Bondage, Rope Gag, Stockings, Suspension, Vibrator
Read More & Watch ON-LINE »
---
---


Siouxsie Q needs a new car, and her cash is lacking but her assets are on point. If she is going to pay for this new ride then she is going to have to do it with some sweet T&A. She's got that to spare, for sure. Her tits are amazing and that ass of hers could probably get her a Rolls Royce. But she's going to have to work for it.

It's easier than her day job, and the benefits are better, too. All she has to do is sit, look sexy, and suffer like hell and at the end of the day she'll have multiple orgasms and one shiny new car. Siouxsie doesn't have it in her to get her pussy whipped without whimpering, but she does get wet enough to play with her some more.

And that greedy ass of hers won't be neglected either. Jack inserts the ass hook, the one with the giant ball at the end, and as the cold metal violates her she feels wonderfully full. When he secures the other end to her hair he doesn't tell her, but she learns quickly as every move she makes has her fucking herself in the rear.

Tags: Ass Caning, Ass Hook, Breath Play, Caning, Clam Tie, Drool, Hair Pulling, Hair Tie, Neck Play, Neck Rope, Pussy Whipping, Rope Gag, Single Tail, Tape Gag, Thigh Caning, Whip
Read More & Watch ON-LINE »
---
---


When Chillycarlita met Jack Hammer she thought he was quite possibly the coolest artist she had ever seen. He had an erotic magnetism that she just couldn't resist. He handled her body expertly and ever since she hasn't been able to get him out of her mind. He knew she would come back for more. It was only a matter of time.

She was kind of expecting it to be more of the same, but there is always something new when Jack becomes involved. New positions, new torments, and more intensity. One minute she is soaring, suspended in the air, and the next she is on her knees and face, bound of the floor, being whipped mercilessly on the ass. It's so hot that the pain threatens to bring her to orgasm before he gives the order.

Tags: Drool, Marks, Nipple Bondage, Rope Bondage, Rope Gag, Suspension, Whip
Read More & Watch ON-LINE »
---
---
Chillycarlita loves art. Jack Hammer makes some of the best. He's got water colors hanging in the gallery, but that isn't what we mean. His real passion is making the models into the canvas themselves, and Chillycarlita is interested in being the subject of his next piece.
There are a few key elements to a beautiful work of art. The subject must be just right. Chilly has a perfect ass and tits that look like they are begging to be grabbed. The setting has to be perfect. For this one he'll try both the couch and the dungeon. And of course, an artist enjoys his work. There's no point in doing it if he can't have a little fun with the girl at the same time.
Chilly seems to be having fun, too. At least from the way she is alternating between giggling like a school girl and moaning like a whore. Whips and rope excite her and the magic wand is so powerful that it quickly brings her to multiple, Earth shattering orgasms. She feels like she is floating, and it isn't all in her head. She wanted a real rope bondage experience, and that isn't complete without an amazing suspension.
Tags: Box Tie, Breast Bondage, Breast Harness, Hitachi, Legs Spread, Orgasm, Rope Bondage, Rope Gag, Single Tail, Spanking, Suspension, Whip
Read More & Watch ON-LINE »
---
---
Happy Holidays! We've Kacy Lane here, a pretty little present that we are going to really enjoy unwrapping. All she wants for Christmas is Jack Hammer and his expert rope bondage. Well, enough with the mixed metaphors and bad jokes, on with the action.
Kacy is the perfect combination of hot and ready, a sexy brunette with a banging body that loves bondage, discipline and especially orgasms. Just add rope and she is instantly wet and looking to get off. When the bondage gets more complicated and more intense she is liable to cum before Jack even gets his hands on her cunt. It's all so exciting that she can barely contain herself. And so when he finally does come across her pussy with the powerful vibrator she is screaming out her orgasms in a matter of seconds.
Tags: Breast Bondage, Choking, High Heels, Hitachi, Neck Rope, Orgasm, Rope Bondage, Rope Gag, Vibrator
Read More & Watch ON-LINE »
---
---
Holy hell, London River is flexible. She could probably have been a contortionist, but this brunette beauty decided she loved being in bondage so much she had to do it for a living. We are all better off for it, too, because finding a stunning piece of ass that can stand to be twisted into these intense positions is a rare treat.
Jack Hammer takes London's leg and ties it up all the way behind her head. Her thigh, calf, foot, and ass are all there for the caning, and there's only so much struggling she can do before she just falls over and exposes herself further. Suffering has its benefits. If she is good enough to take everything else Jack sends her way then there is the chance that he will throw in a few orgasms for her, too. When she isn't bound she likes to arch her back and thrash a bit whenever she gets off. With the rope around her she can't do either and it is all that much more intense when the ecstasy finally comes.
Tags: Ass Caning, Ass Whipping, Calf Caning, Caning, Dildo, Foot Caning, Hitachi, Inversion, Inverted Suspension, Orgasm, Pogo, Rope Bondage, Rope Gag, Single Tail, Suspension, Thigh Caning, Vibrator, Whip
Read More & Watch ON-LINE »
---
---
Most bad students get bad grades. Some get detention. Cupcake SinClair is so much worse than most students, though. She doesn't just get bad grades or talk back. Headmaster Jack Hammer is constantly hearing stories of her sucking and fucking all over the campus. It's not the kind of behavior he is going to accept in his facilities. She will need to be reconditioned.
A good education involves both rewards and punishments. If she is good Cupcake will get that tight little pussy of hers stuffed with cock courtesy of Mr. Pogo. She may even get to spend some time with the Hitachi. But for as long as she is talking back and acting up, Jack isn't going to give her a second of satisfaction. For now it will be rope bondage and corporal punishment. Only when she has learned to be an obedient student will he reward her good behavior with body rocking orgasms.
Tags: Breast Bondage, Breast Whipping, Celebrator, Dildo, Glasses, Hitachi, Orgasm, Pogo, Rope Bondage, Rope Gag, Strappado, Whip
Read More & Watch ON-LINE »
---
---
Sasha Heart is out from Kentucky and looking for a little bit of California love. She's been doing this for a while but she hasn't had much experience with bondage. She has some ideas about what she likes, like being tied up and submitting to a strong man, is very appealing to her. She has spent some time dominating others, but deep down inside she has been longing for what she has coming to her now.
Submission isn't easy. She's not used to being so exposed and vulnerable. Jack Hammer doesn't even take the time to strip her naked before he starts playing with her. He flips that sexy skirt of hers up and starts fucking with her wet pussy. She's clearly been anticipating this for a while, because she is ready to go and he has barely laid a hand on her.
The hogtie on the floor is hot, but the suspensions are definitely better. She starts on her feet, goes to the air, is taken to the floor, and flies again. Every step of the way Jack shows Sasha exactly how amazing it can feel to be the one submitting. She is super-orgasmic, always on edge and ready to explode, so whenever he hits her clit with the hitachi she immediately has an earth shattering release. And as soon as the waves of ecstasy have subsided and she gets her bearings back she is right back on edge and ready for another one.
Tags: Ball Gag, Black Ball Gag, Blindfold, Dildo, Hitachi, Hogtie, Legs Spread, Orgasm, Pogo, Rope Bondage, Rope Gag, Suspension
Read More & Watch ON-LINE »
---
---
Competent help is fucking impossible to find. Jack Hammer knows, he's been trying to get this temp, Olivia Fawn, to do her job with even the barest hint of intelligence all afternoon. She asks him about emails. She asks him about packages. She never seems to knock when she enters his office. And he doesn't have all day to try to teach her the basic lessons that she needs to learn. Pain, however, is a powerful teacher. Maybe a little time in bondage, suffering through some corporal punishment, will make her a useful employee.
Some people consider training employees to be a waste of a day, but as long as Jack is going to be showing Olivia the ropes he is going to have a good time with it. She won't, but he will. Tears are streaming down her face and she is screaming for mercy. Caning, pussy flogging, and several forced orgasms will have that effect on a girl. Maybe next time she will think before she asks so many stupid questions.
Tags: Ball Gag, Black Ball Gag, Breast Bondage, Caning, Dildo, Fingering, Flogging, Hitachi, Legs Spread, Panty Gag, Pussy Flogging, Rope Bondage, Rope Gag, Vibrator
Read More & Watch ON-LINE »
---
---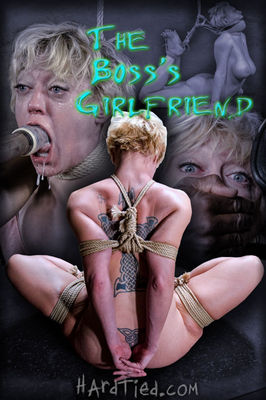 Being the boss's girl has its advantages. For some jobs that means getting to slack off, take longer breaks, or blame someone else when your work isn't done. For others it means a noon quickie and being first in line for promotions. But here special treatment is a little bit different. It means your coworkers, men like Jack Hammer, pay just a little bit more attention to you. Darling enjoys attention, especially when it comes with pain and orgasms. Tight rope bondage is probably her favorite way to be noticed. Today she is going to feel like a star.
Tags: Breast Whipping, Dildo, Foot Torture, Hitachi, Hogtie, Neck Rope, Orgasm, Pogo, Rope Bondage, Rope Gag, Vibrator, Whip
Read More & Watch ON-LINE »
---
---
---
---
---