---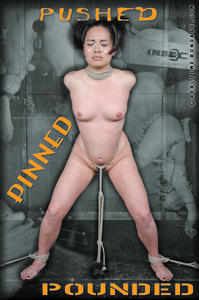 Crotch Rope and Caned Ass

Milcah Halili has been eagerly awaiting having their own live feed on Real Time Bondage, but we aren't entirely sure they knows what they're getting themself into. That's why we have decided to start them off light. We sit them down, handcuffed to fellow model Lorelei Lee, and ask the two of them a few questions about themselves. We get an idea of what they've tried, what they haven't, what they like, and what they don't. We are going to try a bit of each on the both of them.

We put Lorelei Lee into a metal barrel with just her head sticking out so she can watch as our handlers have their fun abusing Milcah's body. Two of our handlers take out whips and stand on either side of them, lashing at them with the tails, leaving red marks up and down them where their flesh was stung. Our handlers wrap Milcah's eyes in tape, so that they cannot see when they are about to be struck again.

Matt grabs a flogger and beats their tits and their pussy, making them shake and pull against their neck rope and the brutal strappado their arms are pulled into. Then he uses a wooden cane to beat their ass until there are a few good lasting bruises for Milcah to take home at the end of their time together. After that it is time for Milcah to take a breather so that they can be ready and rested for the rest of their time in the dungeon. They are nowhere near done yet.
Read More & Watch ON-LINE »
---
---


Sexy Sinner Pays for Her Transgressions
Samsara has got to be one of the whiniest models Matt Williams has ever come across. Every single thing he goes to do to her she begs away from, begs for forgiveness, but Matt is here to make it clear that she is begging the wrong person. The only one who can pardon her, forgive her, release her from her torment, is God, and so he should be the one she is asking. And since the path to righteousness is penance, Matt is going to help Samsara along with that.

Matt provides her with a ball gag and a blindfold so that all she can experience is the pain of her punishment. He ties her legs so that they are spread apart and uses rope to create a harness for her breasts so tight and thorough that her tits turn a dark purple from the cut off circulation. Then he ties her neck rope to the ceiling so that she is choking herself, and starts caning her tits, her ass, and whatever other piece of her body he can reach. She lets out cries of pain that are muffled by her ball gag and send drool spilling down onto her chest, but she isn't done repenting for her sins yet, and Matt isn't done having fun with her.

He ties Samsara so that she is lying face down on top of a box with her ankles tied to her hair, holding both her legs and her head up a few inches off the box. He removes her gag, then he comes in hard with the flogger, beating her ass as she lets out screams and moans pleading with him for mercy. But mercy isn't his job, his job is to make her feel the pain of her penance, and so he goes on. He takes out the hitachi and vibrates her pussy until she can't cum anymore and makes her plead directly with her god if she wants any rest tonight.
Read More & Watch ON-LINE »
---
---


Holly Heart has one hot body that looks amazing in lingerie. That's why we start her out in a cute bra and panty set. She is Blindfolded and tied down with her legs spread, showing off her gorgeous body. She gets vibrated to start, then Matt Williams and Sergeant Miles take turns using her mouth while she still cannot see whose cock is penetrating her throat. She doesn't seem to mind though. She is clearly turned on by the onslaught of dick. The Sergeant Miles decides to feel her up and begins fingering her under her panties while she continues choking on cock, ripping powerful orgasms out of this gorgeous cock sucking slut. Holly Heart never disappoints.

Tags: Blindfold, Face Fucking, Large Breasts, Three Way, Throat Boarding, Vibrator
Read More & Watch ON-LINE »
---
---


Everyone loves London River. And how can you not? Her extreme flexibility, earth shattering orgasms and general willingness to throw herself at everything with no holds barred makes her a keeper. London is fun.

In order to give this sensation slut the experience she so deeply craves, we bring 3 different cocks to the table. It really is the only chance we have against a sexual animal like London. Oh and the blindfold and straightjacket helps too.
Once London is properly restrained and her vision is cut off, we get to work. The plan is simple. Fuck her mouth and pussy without mercy until her brains melt right out of her ears and her trademarked shrieks ring off of the rafters.

We proceed to do just that as London proceeds to lose her mind right out of her well pounded holes. That hyper responsive pussy takes her down every time. And we love watching it.
The bondage and cock does the trick as our glassy eyed fuck toy whimpers and twitches in her straightjacket. She is gone. The lights are on but nobody is home. Which, quite honestly, is our favorite look on London.
Tags: Big Dick, Black Cock, Black Hair, Blindfold, Blow job, Face Fucking, Flexible, Hand Over Mouth, Interracial, Long Hair, Natural Breast, Rough fucking, Rough Sex, Shaved, Sloppy Blow Job On Black Cock, Small Tits, Straight Jacket, Thigh High Stockings
Read More & Watch ON-LINE »
---
---


Today we are happy to welcome back the one and only Mona Wales to the pages of Sexuallybroken. When someone consistently delivers scenes with the level of intensity that Mona does, we can't help but invite her back. She outdoes herself every time.
Bound down with tight metal shackles, Mona's lean toned body is perfectly displayed. Black thigh high stockings encase her pale legs that are spread wide in their bondage. A vibrator is screwed down directly on her shaved pussy.

The bondage keeps Mona tilted at the perfect angle for throat access. It is training time. We have three cocks on hand today to ensure that she gets the proper fitting that she needs. We then unleash right down her wide open straining mouth.
All the while, the vibrator is working away full blast. It doesn't take long to turn this composed goddess into a dazed and drool covered sexual animal. Her honest self is revealed. And it is beautiful. All it took was some orgasms, bondage, breath play and dick to make it show. Always a pleasure my dear. Until we meet again.

Tags: Big Dick, Black Cock, Blindfold, Blonde, Blonde Slave Training, Blow job, Breath Play, Cock Sucking, Drool, Hitachi, Interracial, Natural Breast, Shaved, Small Tits, Thigh High Stockings, Vibrator
Read More & Watch ON-LINE »
---
---
Jeanie Marie is built for the sex. A toned body, big fuck me breasts and long blonde hair. She knows what she wants. We know what she wants too, and are more than happy to provide it. What she needs is relentless multiple mind blowing orgasms and vigorous throat training until she is a babbling mess.
Blindfolded and bound down in stocks onto a sybian, Jeanie is quivering with nerves and anticipation. We walk up and inspect the goods before getting to work. First we cut off her tight dress and expose those fuck me breasts. Her blindfold cuts off all vision, all she can do is anticipate the dick. The sybian works the magic it was designed to do as she cums fiercely.
Once we have loosened up that throat a bit, we rip off the blindfold and pick up the pace. The drool pours out as her eyes water. In short order her pretty makeup is running down her face. She honestly does look better destroyed. As they all do.
We do not let up until Jeanie is a puddle of throat fucked flesh completely undone by cock. If she could say thank you, we are certain she would. As it is, her dazed eyes can not even get uncrossed. Our job is done here.
Tags: Blindfold, Blonde, Blonde Slave Training, Blow job, Drool, Enhanced Breasts, Smeared Makeup, Belt Bondage, Drool, Face Fucking, Pale Skin, Shaved, Slave Bj Training, Slave Girl Training, Sybian, Three Way
Read More & Watch ON-LINE »
---
---
Sometimes all you need is the basics. A bed, some bondage and a nubile play toy to act as a cock sheath. All of which we happen to have on hand today. Lucky us! Let's blindfold up Sarah Luvv, tie her to a bed and fuck her hard from both ends until she can no longer recall her own name. How much dick does it take to reduce her into a drooling puddle? We are about to find out.
Bound on her back in a classic fuck me position with her toes pointed up towards the ceiling and her blindfolded head hanging over the edge, Sarah is ready for the stuffing. And stuff her we do. Both the dicks run a relentless tag team on her holes. She can not dodge the dick or escape the training. We pound her out to a custom fit as the drool and cum pours out.
Sarah moans and cums as her cute little squeals fill the studio. We suppress the squeals with a serving of dick down her throat and an additional serving of hard cock in her tight pussy. We show no mercy. But to be fair, she doesn't ask for any mercy. This pet actually craves the cock and the rougher the better. We are more than happy to oblige and pick up the pace.
We do not stop until Sarah is a twitching mess of starlet. She is left a cummed out mess, her drool running down her face and into her long brown hair. Such a sexy little thing, isn't she?. We should do this again sometime very soon.
Tags: Blindfold, Blindfold Sex, Blow job, Brown Eyes, Brunette, Drool, Finger Sucking, Natural Breas
Read More & Watch ON-LINE »
---
---
We couldn't help ourselves. We had to have her back. And if you have ever seen the legendary Asian fuck doll go at it, you would understand why. Kalina Ryu is unstoppable. She devours men. She just laughs at the dick you throw at her. She can not be sexually broken, we realized that long ago. These days, we are content with just fucking her until we get winded.
The bondage is just to give us a fighting chance. We will still lose of course, but anything to give us an edge. Bent over in half and shackled to a wooden post with her flawless ass jutting out, Kalina is ready to do. A blindfold cuts off all vision, reducing her to nothing but a mouth and pussy. She loves it of course. Kalina was born to be a cheerful bag of holes. A bag of holes that destroys men. Here goes nothing.
We tag team back and forth, taking whichever end we so desire. The strict metal shackles keep her wrists and neck firmly in place. She can not escape or dodge the dick. All she can do is take what we dish out. Which she does. With relish. It doesn't matter how hard we fuck her, we can not wipe that huge grin off her face. It is a futile task. She drools and cums and drools some more, an Asian fuckdoll in her happy place.
We stop when we run out of breath. It is pointless to try and sexually break this one. If we didn't have her bound, she would chase us down and fuck us to death. Asian fuck doll, you win again. Like you do. We always have fun trying, but the outcome is always the same. This one is indestructible.
Tags: Bent Over Tie, Black Ball Gag, Black Hair, Blindfold, Blindfold Sex, China Doll, Cock Sucking, Drool, Face Fucking, Hitachi, Natural Breast, Rough fucking, Rough Sex, Shaved, Slave Girl Training, Small Tits, Vibrator
Read More & Watch ON-LINE »
---
---
The stunning Aria Alexander is back. And we couldn't be happier. Aria is a fashion model that turned to the dark side, as she found out that she likes dick more than she liked wearing clothes. We all win here today. Let's put this stunner through her sexual paces.
Aria is bound on her back, toes pointed towards the ceiling and creamy skin on display. We have a custom made wooden bondage device that our slut is shackled in that puts her at the perfect fucking height. Thick leather belts keep her firmly in place. Black electrical tape makes a blindfold and gag, cutting off all of her vision and turning her into a set of holes. Her flawless shaved pussy peeks out temptingly. We make full use of it.
One after the other two hard cocks step up and train out Aria's tight hole. The bondage holds her tightly in place. She can not wiggle, she can not escape the dick. All she can do is take what we dish out. And what we have to dish out is relentless dick. Big hard cock takes every inch of her pussy, balls deep, as Aria moans and cums behind her strict gag. This model is now serving her true purpose…as a cock sheath.
We pound out that pussy until she is wrecked. Our bound starlet is a twitching mess, stuffed full until she is dazed and delirious. There are definitely worse ways to spend the day than fucking fashion models in tight bondage. We really can't complain. And if Aria were to complain, we would not be able to hear much past that tape gag.
Tags: Belt Bondage, Black Hair, Blindfold, Blindfold Sex, Leather cuffs, Long Hair, Natural Breast, Pale Skin, Rough fucking, Rough Sex, Shaved, Slave Girl Training, Small Tits, Tape Gag, Three Way
Read More & Watch ON-LINE »
---
---
Sasha Heart is out from Kentucky and looking for a little bit of California love. She's been doing this for a while but she hasn't had much experience with bondage. She has some ideas about what she likes, like being tied up and submitting to a strong man, is very appealing to her. She has spent some time dominating others, but deep down inside she has been longing for what she has coming to her now.
Submission isn't easy. She's not used to being so exposed and vulnerable. Jack Hammer doesn't even take the time to strip her naked before he starts playing with her. He flips that sexy skirt of hers up and starts fucking with her wet pussy. She's clearly been anticipating this for a while, because she is ready to go and he has barely laid a hand on her.
The hogtie on the floor is hot, but the suspensions are definitely better. She starts on her feet, goes to the air, is taken to the floor, and flies again. Every step of the way Jack shows Sasha exactly how amazing it can feel to be the one submitting. She is super-orgasmic, always on edge and ready to explode, so whenever he hits her clit with the hitachi she immediately has an earth shattering release. And as soon as the waves of ecstasy have subsided and she gets her bearings back she is right back on edge and ready for another one.
Tags: Ball Gag, Black Ball Gag, Blindfold, Dildo, Hitachi, Hogtie, Legs Spread, Orgasm, Pogo, Rope Bondage, Rope Gag, Suspension
Read More & Watch ON-LINE »
---
---
---
---
---