---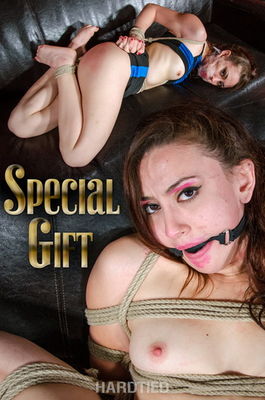 Mandy Muse came looking to get some glamour shots for her boyfriend, but O.T. wants to see her in a different kind of shoot. He's got a theme in mind, "Bondage and Discipline" and Mandy is naive enough to go along with it, without even negotiating her limits. She's scared, sure, but who wouldn't be, because in a matter of minutes she's completely tied up on the couch and he's making a video that she hopes her boyfriend never sees.

She's never been into pain before, at least not like this. O.T.'s got her on the couch, legs spread wide, and he paints a bulls-eye on her pretty, shaved pussy with her own lipstick. That's where the whip is going to land, replacing the bright pink with a deep, wounded red. Her whole body will get the same treatment; tits, back, ass, all of it covered in thin welts from the intense single tail action.

Mandy should hate this, but she can't control how her body reacts. Her wet pussy is ready to explode with anticipation. He puts a vibrator up to her clit and she can't control herself. He's calling her awful names and it just makes it worse. The orgasms come, she can't stop them, and she knows that she can't let anyone else see this tape.
Read More & Watch ON-LINE »
---
---


Blazing hot redhead Kel Bowie has been fucking herself up for our viewing pleasure for a while, but we can't let her have all of the fun. We need to get in on this act if we are going to truly enjoy ourselves, and besides, we know that she can take more punishment than she is willing to show us without some additional encouragement.

It's lunch time for our pet, and we have some pretty heinous options for her to satisfy her hunger with. There is nothing appetizing about what we put down in the dog bowls in front of her, and like any animal she's going to have to just put her face in and eat it up, making a huge mess in the process. We always knew Kel was a dirty girl. This just confirmed it.

Later on she'll call O.T. a great coach, but while she is trying to walk on her knees across a bed of rice she has nothing nice to say. The rice does its work beautifully opening up tiny cuts on her legs, but this is almost of thend of her shoot so we don't need to take it slow. Rain picks up a flogger and starts working Kel's back while the sexy submissive tries her damnedest to have an orgasm. O.T. grabs a whip and goes across her tits and ass with it, putting in some marks of his own for her to remember him by.
Read More & Watch ON-LINE »
---
---


Rain DeGrey does a brisk trade in human flesh all across the galaxy. She's not so cruel as to sell her people by the pound, but sometimes they end up wishing that she had. Abigail Dupree is the next bit of cargo that she's hauling, en route to the auction block on some distant planet. Every girl that she sells needs to be top notch, prepared to pleasure whatever hideous monster is her new owner.

A lively little tentacle that is sharing the hold with her finds its way inside of Abigail. It's buried in her ass deeper than anyone thought possible before Rain notices and decides to give her a hand. If she can take something that deep inside of her then she may be able to fetch a nice price on the block. Rain just needs to make sure she can take it rough as well.

Abigail has never even been fucked with a strap on before, and Rain is a pro when it comes to pounding holes. She's going to give her the most brutal dicking of her life so far, but Rain is well aware that her cargo is destined to be poorly treated in whatever new home she is going to, so she had better get used to a bit of brutality.
Read More & Watch ON-LINE »
---
---


HA is known for bringing the best in the business when it comes to rope bondage. Jessica Creepshow is known for being on of the hottest models in the world, with a banging body and the kind of sexual energy that is almost entrancing. Jack Hammer is going to turn that energy back onto her and show her the time of her life.

She's flying in the air, suspended in amazing positions. Face down in a hogtie, she is several feet off of the ground and swinging freely. Folded neatly in half, she can only look down at the ground she dangles above. Every new position brings its own challenges and its own delights. You see, Jessica is a real rope sub. She loves having a man put her into bondage and turn up the intensity until her mind is reeling.

Completely overloaded, Jessica finds her way into subspace and gets completely lost. She doesn't want to be anywhere or do anything except exactly what her new master, Jack, wants.

Tags: Ass Caning, Ass Whipping, Breast Whipping, Caning, Hitachi, Hood, Orgasm, Orgasm Denial, Single Tail, Spanking, Whip
Read More & Watch ON-LINE »
---
---
Jack Hammer is opening up a dojo to teach the finer points of bondage and submission to the finer women in the area. Marica Hase is eager to learn what he is capable of.
This isn't just a few quick ties and a minor beating. Jack is going to make Marica fly, and in multiple positions. Suspension is considered the highest form of rope bondage, shibari is the pinnacle of the art, and the combination of the two is the apex of eroticism. She's lying on her side, 2 feet off the ground, as Jack begins to work her body over with the cane and push her into subspace. She is still there, unable to do anything but swing freely, when he pushes the hitachi between her legs and starts the waves of orgasms that are going to wash over her almost continuously through the afternoon.
He stands her on her toes next, and begins the training in pain and pleasure again, but when he pulls her down and puts her on her knees, then he knows he can work her without mercy. Marica's ass and pussy are on display and up for abuse. When her cunt is getting vibrated to more Earth shattering orgasms, Jack makes sure to work her back door with his fingers, shaming her and making her dripping wet at the same time.
Tags: Anal Fingering, Ass Whipping, Breast Bondage, Caning, Corporal Punishment, Finger Fucking, Fingering, Foot Caning, Foot Torture, Hitachi, Orgasm, Rope Bondage, Single Tail, Suspension, Vibrator, Whip
Read More & Watch ON-LINE »
---
---
Holy hell, London River is flexible. She could probably have been a contortionist, but this brunette beauty decided she loved being in bondage so much she had to do it for a living. We are all better off for it, too, because finding a stunning piece of ass that can stand to be twisted into these intense positions is a rare treat.
Jack Hammer takes London's leg and ties it up all the way behind her head. Her thigh, calf, foot, and ass are all there for the caning, and there's only so much struggling she can do before she just falls over and exposes herself further. Suffering has its benefits. If she is good enough to take everything else Jack sends her way then there is the chance that he will throw in a few orgasms for her, too. When she isn't bound she likes to arch her back and thrash a bit whenever she gets off. With the rope around her she can't do either and it is all that much more intense when the ecstasy finally comes.
Tags: Ass Caning, Ass Whipping, Calf Caning, Caning, Dildo, Foot Caning, Hitachi, Inversion, Inverted Suspension, Orgasm, Pogo, Rope Bondage, Rope Gag, Single Tail, Suspension, Thigh Caning, Vibrator, Whip
Read More & Watch ON-LINE »
---
---
Biker Bondage Chick Harley Ace may think of herself as a hard ass, but in the hands of Jack Hammer she is just a soft, fleshy play thing. Hot as hell, Harley has a long day ahead of her, being beaten, tied and tormented by the best in the business.
In the office she has a nice leather couch to sit on, it's comfortable, even if it accentuates the contorting bondage that she is in. Jack is nice enough to give her a quick orgasm while he roughs her up a bit.
In the dungeon Harley has a whole new set of problems to face. The cane leaves those thick welts on her ass that Jack loves so much. Nipple clamps pull her tits down to the floor, keeping her bent over and her ass in the air. Even worse, he comes at her next with the whip. If she thought the cane stung, the whip is like a knife cutting across her body. It doesn't draw blood, but maybe if it did Jack would ease up a little bit. As it is the thing just leaves more bright red stripes across her ass and thighs.
Tags: Ass Caning, Ass Whipping, Caning, Crotch Rope, Hitachi, Neck Rope, Orgasm, Rope Bondage, Single Tail, Spanking, Tape Gag, Vibrator, Whip
Read More & Watch ON-LINE »
---
---
---
---
---