The English Mansion – Mistress Nikki – Office Thief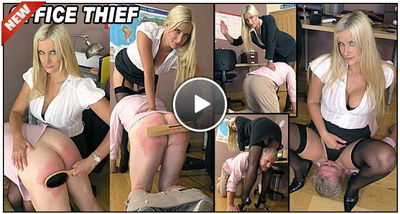 Featuring: Mistress Nikki
Corporal Punishment – Canes, Whips, Paddles & Spanking, Humiliation, Verbal Abuse, Spitting, Face Slapping, Smart Suits, Ordinary Daywear, Dresses
What do these symbols mean?
It is not such a good idea to steal from the petty cash draw, when your boss is Miss Nikki. Caught red handed, his feeble excuses are of no use and he knows that this is going to be a bad day at work when he finds himself crushed between her powerful thighs. This is just the start and his punishment involves a good beating from some well placed implements, as well as having to work for nothing from now on.


Download:
Download file – 364.2 MB
Tags: Mistress Nikki, Spanking, The English Mansion, TheEnglishMansion