Dominatrix Annabelle – Agent Provocateur Par Excellence!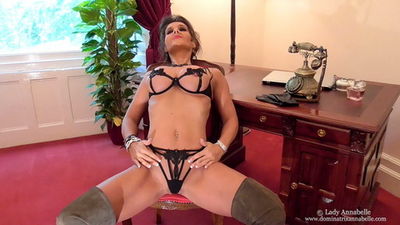 A wonderful concoction of pure Seduction, Tease and Sexy Lingerie! I was thrilled when My 'Special Delivery' Postman sent a parcel to me, and WOW what a surprise! I couldn't wait to unwrap the contents and try on my SEXY, COCK TEASING lingerie! Oh My Goodness, I love receiving gifts, especially when they look so HOT! It wasn't long before I set up my camera and sent my Special mailman a very personal 'Thank you'. I arranged to meet him the next day, in the park so that I could deliver a personal kiss and thank you, with a copy of the video!

It was a beautiful HOT day, and I surprised him further by giving him a glimpse of my sassy lingerie beneath my white shirt. I gave him a wink, and said, how about we take a stroll through the woodland and capture some great shots! Feast your eyes over just a few from this great set! What a day! We encountered a few dog walkers while taking our stroll! I have a feeling one actually stayed and watched behind the bushes!




Download:
Download file – 503.4 MB
Tags: Dirty Talk and Masturbation Instructions, Dominatrix Annabelle, DominatrixAnnabelle, Lady Annabelle