CfnmTV – Footballer's physical 1-4
Footballer Lee Ainsworth is on his way to see the doctor for what he thinks is a routine examination. No one likes being pulled about and manhandled but he has no choice in the matter. To his surprise his regular doctor is away, and in his place is a female locum. Surely a woman wouldn't be allowed to carry out such an intimate examination? But the dominant doctor and confident female nurse are in charge here and fully intend to have their fun with the hunky athlete.
The imperious doctor and her nurse are having a wonderful time. Having got their hands on sexy young footballer Lee they are taking their time to enjoy every inch of his muscular body. Lee is aware something isn't quite right, but daren't challenge the women's authority. So he obediently does as his told, getting more and more nervous as their demands become increasingly more sexual.
Poor Lee Ainsworth is totally out of his depth. As a highly paid and well known footballer he's used to being treated with respect. Yet these women seem oblivious to who he is, insisting that he do their bidding no matter how strange their requests. They seem more interested in manhandling his muscular body and playing with his big heavy cock and balls than anything medical. If he didn't know better he'd think they were enjoying themselves at his expense!
Lee Ainsworth isn't the sharpest tack in the box but even he is starting to have doubts about the legitimacy of some of the doctor's procedures. The two women's behaviour becomes increasingly frenzied as they demand more and more of him. He feels utterly helpless and humiliated as they freely toy with his body regardless of his feelings. But he's terrified of disobeying them so must swallow his pride and get on with it.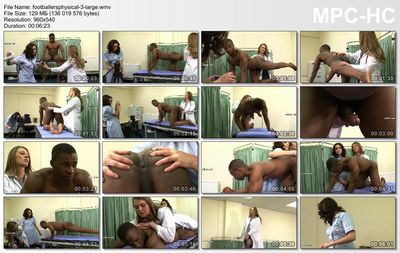 Download:
Download file – 400.0 MB
Download file – 241.2 MB